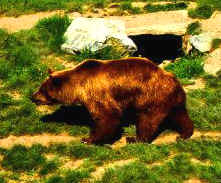 Grange de Bâa is situated at the foot of the national park.
Created in 1967, it protects the Néouvielle reserve, an outstanding natural ensemble of 50,000 hectares. It spreads to Hautes-Pyrénées and Pyrénées-Atlantiques, along the Spanish border, on a 100 km-long and 3 to 5 km-wide strip. Leaning against the Ordessa Spanish national park, the Pyrenees national park includes grandiose sites : Pic du Midi d'Ossau, Balaïtous, Vignemale, Néouvielle peaks, Gavarnie and Troumouse cirques, beyond 3,000 m. You will admire the high mountain cascades, huge forests and many lakes. The Gaves, Adour and Nestes rivers have their source there.
A specific fauna lives in the national park. Some of these species are unique in France. A few bears found shelter in the Aspe and Ossau valleys. A herd of 2,500 wild goats roam throughout the park. Last specimens of large birds, bearded Gypaetes, vultures, as well as many other species, grouses, white-legged partridges, birds of prey, live in the national park where they nest.
Thanks to the combination of altitude, orientation, and type of soil, Pyrenees' flora is very diverse : Rhododendrons, daffodils, blue irises, Edelweiss, "ramondias" and many other flowers bloom to the delight of the eyes.
Contact Details
Chris & Alain Lamome
Grange de Bâa, Betpouey, 65120 Luz st Sauveur. France.
Téléphone - 00.33.5.62.42.63.17 or 00.33.6.71.26.34.15 - Email :
lamome.alain@wanadoo.fr